LA Galaxy @ Vancouver Whitecaps
Saturday, May 11, 2013
BC Place
Kick-off: 4:00 p.m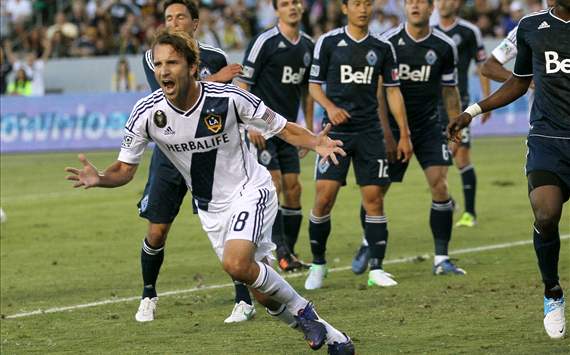 The longest road trip of the season begins this Saturday when the LA Galaxy visits the Vancouver Whitecaps at BC Place. In only their second visit to BC Place, the Galaxy will look to remain unbeaten against the Whitecaps, who are currently second-to-last in the Western Conference.
In their first of three consecutive games away from home the Galaxy will look to bounce back from the 1-0 defeat against Houston this past weekend. Landon Donovan once again had a penalty kick blocked, his second of the season. Coincidently, both Galaxy losses have been by a 1-0 score, and in both Donovan has failed to convert from the spot. There have been hints that someone may overtake penalty kick duties from him.
The Galaxy attack suffered this past weekend, and one can only wonder how the Galaxy would be doing without Mike Magee. Magee has scored half of the Galaxy's goals so far, six of twelve, with no other player tallying more than one goal. Robbie Keane has been absent from five of the Galaxy's eight games this season, and has not scored since his goal in the home opener on March 3rd. After Thursday's practice, the Irishman said he was targeting the game against Philadelphia next Wednesday for his return.
The Whitecaps started the 2013 MLS campaign with two consecutive victories, but it has all gone downhill from there. Vancouver's last victory came on March 9th against Columbus, and has now gone seven straight games without a win.  With nine points out of twenty-seven, Vancouver is tied with Seattle at the bottom of the Western Conference.
The past couple of meetings between the Whitecaps and the Galaxy have been memorable. Last season, in the Galaxy's first visit to BC Place, it looked like Vancouver was close to recording the club's first victory against LA after going up 2-0. Late goals from David Beckham and Jose Villarreal (the first of his MLS career) allowed the Galaxy to escape with a point. The next meeting between the two came in the knockout round of the 2012 playoffs, played at the Home Depot Center. The Whitecaps went up 1-0 in the early minutes of the game, threatening to end the Galaxy's quest for back-to-back championships early. In the 69th minute Magee tied the game with a volley, and less than five minutes later Landon Donovan put the Galaxy ahead after earning a penalty kick. In about five minutes the Galaxy was able to turn things around and begin the push for what would turn out to be the club's second consecutive MLS Cup.
LA Galaxy:
14 points, 12 GF, 5 GA
4-2-2, 4th in Western Conference
Home Record: 3-1-1
Away Record: 1-1-1
Previous Games:
(5/5) LA Galaxy 0-1 Houston Dynamo
(4/27) Real Salt Lake 0-2 LA Galaxy
(4/20) LA Galaxy 2-0 Sporting KC
(4/13) FC Dallas 1-0 LA Galaxy
(3/30) Toronto FC 2-2 LA Galaxy
Vancouver Whitecaps:
9 points, 9 GF, 13 GA
2-4-3, 8th in Western Conference
Home Record: 2-0-2
Away Record: 0-4-1
Previous Games:
(5/4) Real Salt Lake 2-0 Vancouver Whitecaps
(4/27) Vancouver Whitecaps 2-2 FC Dallas
(4/20) FC Dallas 2-0 Vancouver Whitecaps
(4/13) Vancouver Whitecaps 1-0 Real Salt Lake
(4/6) San Jose 1-1 Vancouver Whitecaps
THIS IS LA!
@acosta19LA