LA Galaxy vs Vancouver Whitecaps
Saturday July 20, 2013
StubHub Center
Kick-off: 7:30 pm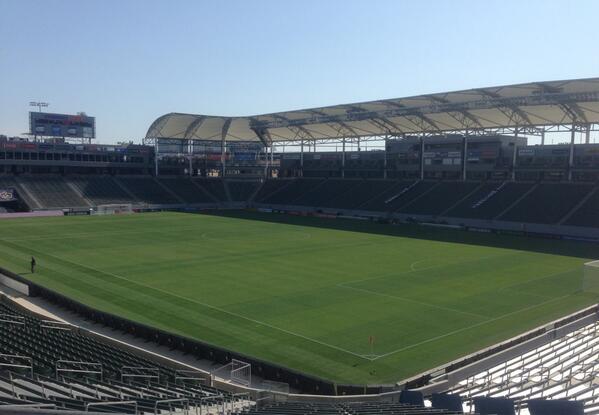 It happened again. The LA Galaxy gave up a late goal in Saturday's game against Portland and walked out of JELD-Wen Field with a 2-1 loss after going ahead early in the game. Giving up late goals has been a reoccurring problem throughout the season, as LA has surrendered fifteen goals in the final fifteen minutes of games this season, eight of those goals coming in stoppage time.
On Saturday the Galaxy will look to bounce back at home when they host the Vancouver Whitecaps. The Whitecaps, currently third place in the Western Conference, have played eleven games since their 3-1 victory at home against the Galaxy and have gone unbeaten in ten of those games.
The Whitecaps have been doing things well both offensively and defensively. In their eight games since the beginning of June, the Caps have scored eight goals while conceding just ten. In the whole season, Vancouver has been shutout just three times, none since their Canadian Championship game against Montreal on May 15th, ten games ago.
In addition to Landon Donovan, the Galaxy will be without Robbie Keane, who was injured during last weekend's game against Portland. With Keane sidelined, a spot has become available in the starting lineup, and during last Sunday's reserves game against the Timbers Jose Villarreal made a case for himself. In the 11th minute the Homegrown player scored a free kick from about 22 yards out, enough to give the Galaxy reserves the three points.
THIS IS LA!
LA Galaxy:
30 points, 30 GF, 24 GA
9-8-3, 5th in Western Conference
Home Record: 6-1-2
Away Record: 3-7-1
Previous Games:
(7/13) Portland Timbers 2-1 LA Galaxy
(7/7) LA Galaxy 2-0 FC Dallas
(7/4) LA Galaxy 2-1 Columbus Crew
(6/29) SJ Earthquakes 3-2 LA Galaxy
(6/23) Chivas USA 0-1 LA Galaxy
Vancouver Whitecaps:
32 points, 32 GF, 26 GA
9-5-5, 3rd in Western Conference
Home Record: 7-0-3
Away Record: 2-5-2
Previous Games:
(7/14) Vancouver Whitecaps 3-1 Chicago Fire
(7/6) Vancouver Whitecaps 2-0 Seattle Sounders
(7/3) Sporting KC 1-1 Vancouver Whitecaps
(6/29) DC United 0-1 Vancouver Whitecaps
(6/19) Vancouver Whitecaps 3-1 Chivas USA
@acosta19LA