LA Galaxy vs Philadelphia Union
Sunday, May 25, 2014
StubHub Center
Kick-off: 5:00 p.m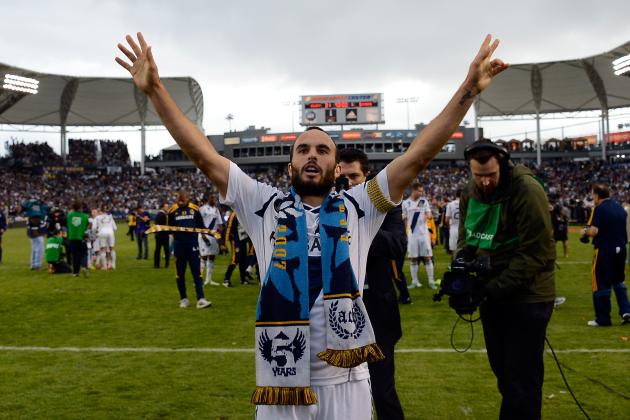 After ending their four-game winless streak this past Wednesday night, the LA Galaxy is back in action this Sunday when the Philadelphia Union visits StubHub Center. On short rest, the Galaxy will look to keep the momentum going and get their second victory this week. Undoubtedly, all eyes will be on Landon Donovan, who was excluded from the United States' 23-man roster for the World Cup.
This past Wednesday the Galaxy returned to winning ways after defeating Dallas. Two first-half goals from Robbie Keane and Gyasi Zardes gave LA a comfortable lead, but things did not end up being so comfortable for the Galaxy in the second half. A botched non-call allowed Dallas to cut the Galaxy's lead in half, after replays showed an offside should have been called. Dallas ended up pressuring but the Galaxy managed to maintain the lead- and more importantly- avoid giving up a late goal.  The Galaxy's new centerback pairing of Opare and Meyer did well given the circumstances, and it is likely they'll be starting once again this Sunday. Perhaps the biggest surprise in the line-up was Kenney Walker making his first start in a couple of seasons, replacing Baggio Husidic and the injured Marcelo Sarvas. Sarvas has been training regularly now for the past few days, so his return to the starting eleven should not be too far away.
Landon Donovan will be available for the Galaxy on Sunday. In what turned out to be shocking and unexpected turn of events for many, Donovan was not included in the 23-man roster who will be representing the United States in Brazil for the World Cup. Donovan is still in search for goal number 135, and after many months, it may finally happen on Sunday.
After Wednesday's win, the Galaxy managed to leave the bottom of the Western Conference. Philadelphia, on the other hand, is above only Montreal in the East. The Union have just two victories in thirteen games, one in the past eleven played. In their latest game, Philadelphia allowed five goals at home to New England, who is leading the Eastern Conference. Away from home, the Union has not been a strong team, although they recorded their only victory in six opportunities in their latest game on the road against the defending MLS Cup champions, Sporting KC.
Don't forget, this Sunday is full of LA Galaxy games at StubHub Center. Old Galaxy players will make an appearance in Carson again when the Alumni game takes place at 2 p.m., followed by the Galaxy vs Union game at 5, and the night ends with LA Galaxy II, on a seven-game unbeaten run, facing OKC Energy at 8:00 p.m.
THIS IS LA!
 LA Galaxy:
12 points, 10 GF, 8 GA
3-3-3, 6th in Western Conference
Home Record: 2-1-0
Away Record: 1-2-3
Philadelphia Union:
11 points, 15 GF, 20 GA
2-6-5, 9th in Eastern Conference
Home Record: 1-2-3
Away Record: 1-4-2
@acosta19LA